Emily Wolf, web designer, shares why finding a brand's authentic reason for being is the only way to craft genuine and relatable storytelling in marketing (and why it's worth it).
Storytelling is definitely a marketing and branding buzzword right now. Here are two reasons why this article is worth reading amidst all the other noise: to become a brand in the B2B space that people talk about, you need to tell a relatable story and to tell a relatable story, you need to know your "why".
What is your "why"?
Before you even start thinking about how to incorporate storytelling into your marketing campaigns or branding, you have to know the story that needs to be told. To know that story, you need to know your "why": why are you in business?
For many of us, this critical question started with one of the most viewed TED talks of all time: Simon Sinek: How great leaders inspire action. His talk is summed up in one elegant phrase: "People don't buy what you do, they buy why you do it." These words are at the core of the way we help companies unearth the most authentic version of their brand, so we're pretty passionate about the concept.
Finding your real "why"
When we ask "why are you in business?" during our messaging workshops, the truest answer is rarely the first thing that comes to mind. For example, if you ask someone why Yeti is in business, they may say something like "to make coolers." While they do make coolers, their real "why" comes down to their founders' love for outdoor adventures: they're in business to make the cooler you'd use every day for all your outdoor adventures so you can keep on exploring (and by the way, you'll never have to think about whether your drinks are still cold and if your cooler can stand up to the wear and tear). Yeti is in the adventure business. Yeti is in the good-times business. See the difference?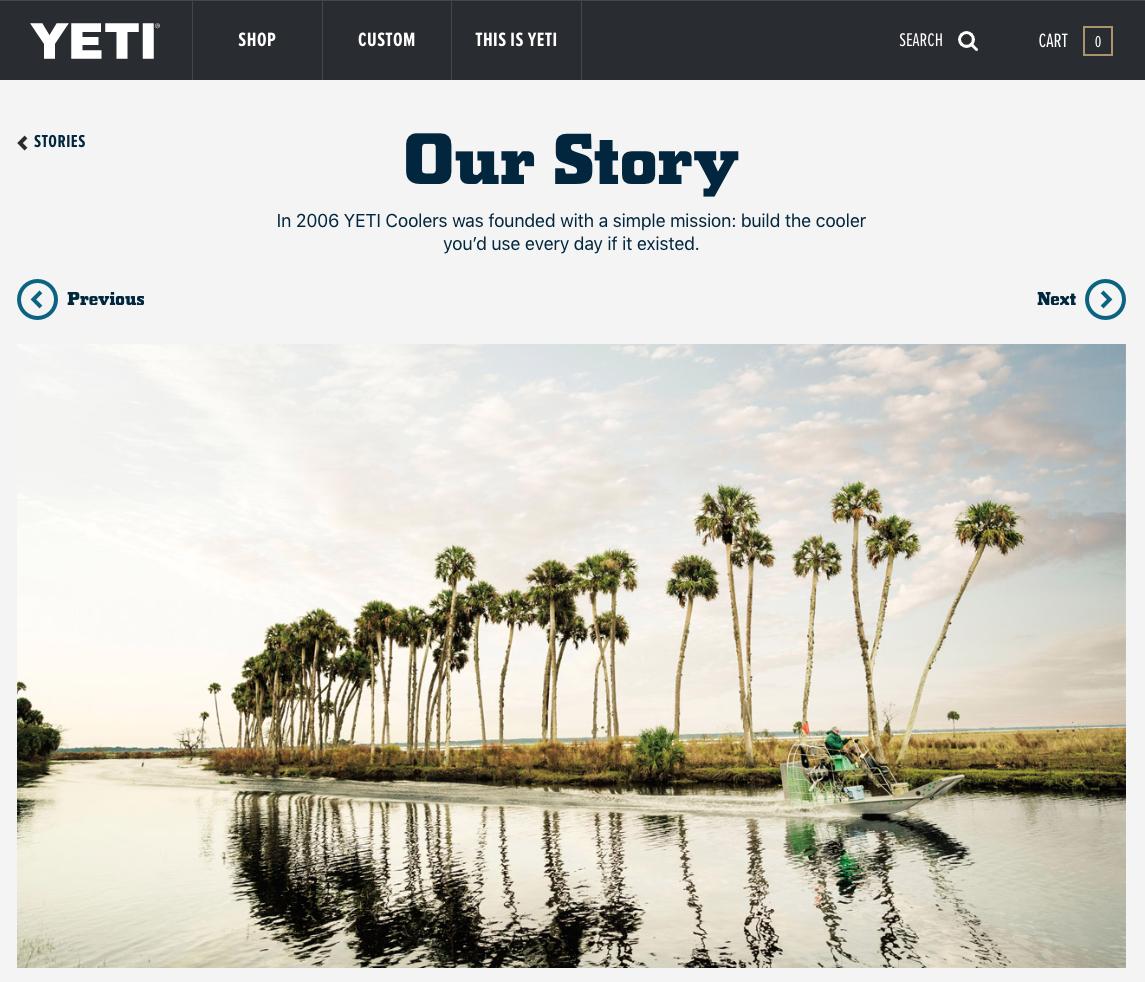 You have to dig deep to uncover your "why", and that usually takes a healthy dose of intention and focus to uncover it. Hint: it's likely not because of your product's features or capabilities, it's probably because of a passion you share with your customers and how your product makes their lives better.
Marketing your "why" through storytelling
What's the best way to share your "why" once you've uncovered it? By expressing it through words and pictures which allow people to see themselves or who they desire to be. We do this every day when we share things with our friends: "You won't believe what happened yesterday! I was downtown at that bagel place we like, and then out of nowhere…" We set the scene, make each other feel what we feel, and grow closer by establishing familiarity and understanding.
Sharing our experiences through relatable stories is a big part of what makes us human: it's how we've been sharing information, teaching lessons, and recording history since the start of time. Storytelling is survival.
B2B storytelling that works
So what does this look like in the B2B world and why is it worthwhile? Let's take a look.
Zenefits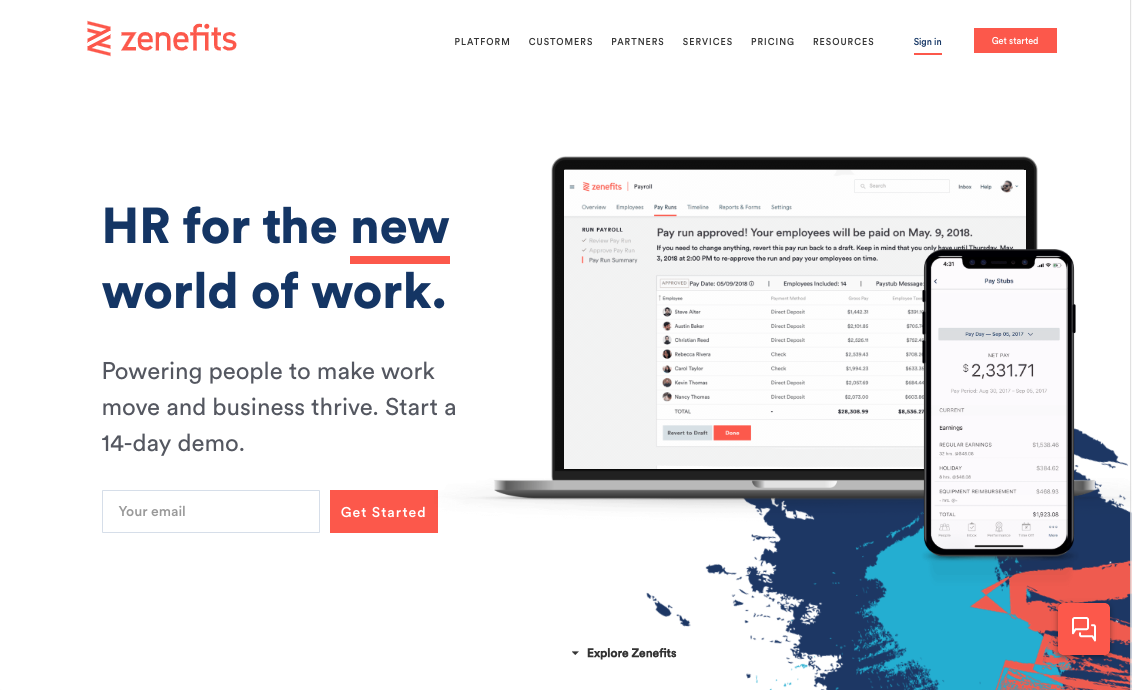 Zenefits is an HR platform that's changing the way we feel about benefits, payroll, and HR (who wakes up each morning anticipating their excitement towards these mandatory business operations?). Their messaging could easily put features and tech specs upfront (which is tempting because it is an impressive piece of software), but instead, they let emotions take the lead and offer to show us a world where HR is easy and approachable. That story is so much more relatable than "this platform includes compliance and payroll compatibility."
Narvar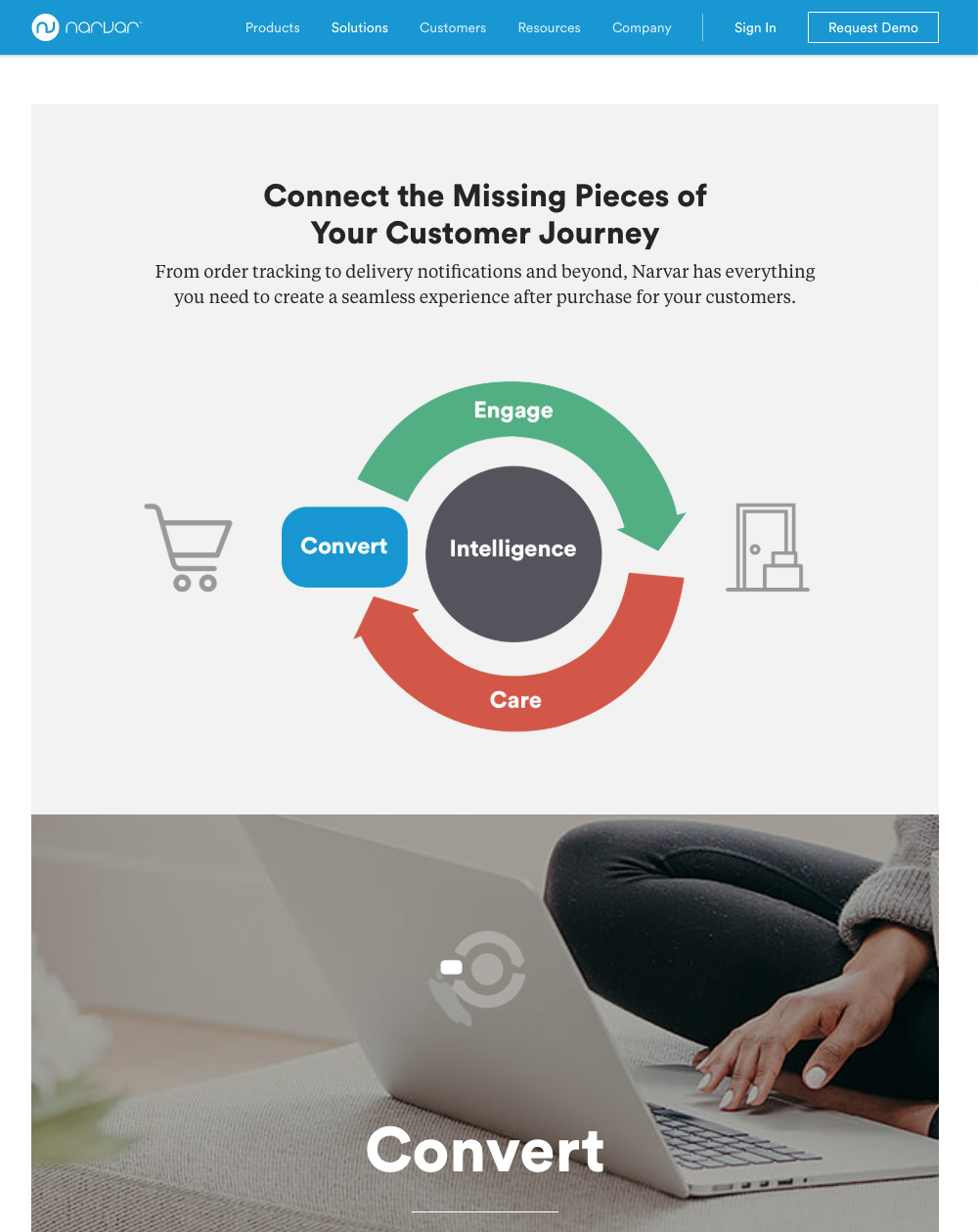 Narvar is a post-purchase experience platform (in other words, it's a piece of software that relays information between a retailer and the purchaser after they make a purchase). Instead of communicating the technical functionality of the product through features and capabilities, they communicate their solutions through the lens of how the customer experiences it: conversion, engagement, care, and intelligence. They do an excellent job of visually supporting their story through images of a woman experiencing the benefits of the software throughout her day. Again, this story is much more relatable than "this platform has ten different customization modes and allows the user to select shipping territories by region."
Making the shift to storytelling in B2B marketing
So what is the common thread in these examples that emphasizes the importance of storytelling?
Telling a story is what people already expect
More and more consumer brands are using the power of story to make their brands relatable to consumers and it works really well! These are the same consumers that go to work each day and make B2B buying decisions. Give people's eyes and ears something just as attractive as they are already seeing everywhere else in their day-to-day lives.
Telling a story creates space for personality and style
Starting with features and capabilities is dry, no matter how you spin it. People like brands they can identify with, brands that understand them. That means they need to feel a personality they can work with. Find your brand's personality and give it life.
Telling a story allows you to put the customer's desires at the center of everything you do (instead of putting your product and its features at the center)
This is pretty straightforward

—

people like companies that meet their needs with something that works. If you show a customer that your priority is to make their life better, then they are a lot more likely to buy whatever it is you're selling. Give the people what they want!
Telling a story provides your brand with flexibility
By telling a story fueled by the passion you share with your customers, you are free to talk about a wide range of relatable topics. When a new need within that area of interest arises, you can offer something new or different and your brand will still make sense. Prioritize the "why" and see where it takes you.
Diggin' these ideas? We also dive into this topic on our podcast episode: The Design of Experience | Storytelling is Survival.