As part of our ongoing employee spotlight series, Fifteen4 will be profiling the employees in our office who inspire us. Today, meet Producer Kara Smolenyak.
As a producer, and a globetrotter, Kara Smolenyak knows how to stay on the move.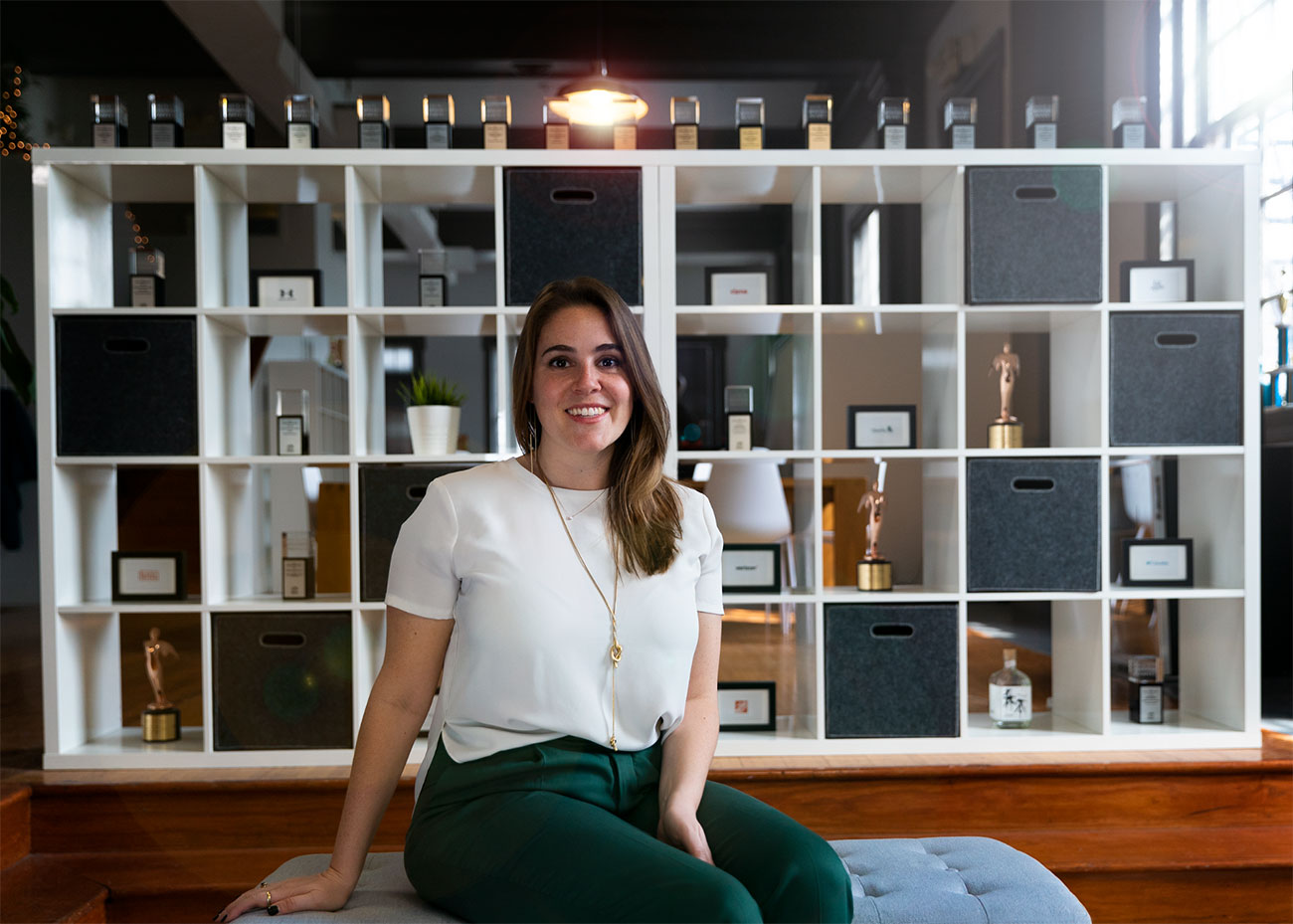 It's Friday at Fifteen4, and somebody wants to put on some music.
"Alexa," Kara Smolenyak says from across the room.
No response. She takes a few steps closer to the device.
"Alexa," she says.
Nothing.
Alexa's not feeling it today.
Thus begins a showdown between Kara and Alexa, in which neither backs down—not Kara, with her increasingly forceful requests; nor Alexa, with her stubborn refusal to join happy hour. Closer and closer, Kara inches, until she is speaking with determination into the top of the device.
This thing will play music. It just doesn't know it yet.
As a producer, problem-solving—and the repeated requests that come with it—is Kara's job. And not just problem-solving—creative problem-solving: Fixing issues in the moment, with what's close at hand, typically as time is running out.
Just after high school, Kara's biggest problem was her next move. Having heard good things about Loyola University, 150 miles due west from the shore, the concept of leaving town and trying somewhere else for a while nestled comfortably in her head.
"The night before my Senior Prom, my mom drove me down to Baltimore," she remembers. "We stepped on campus for maybe five minutes. I said, 'Okay, I'll go here.'"
There's an endless appeal to "somewhere else;" to take in the view one step beyond the horizon. Kara has always been in search of her next "somewhere else." First, it was Baltimore. Months later, through a study abroad program, it was Belgium. Then, Thailand, Ireland, and dozens of others; anywhere she could disappear into the unfamiliar and emerge with something new.
The tough part of being a global traveler are the mornings when your suitcase is empty and your travel diary is closed. How does someone channel that itch for adventure into a journey from nine to five?
When Kara reached Fifteen4's live action video team, she learned that the open road isn't the only place to find freedom.
"[CEO Steve Smallman] granted us a passion project, and we got to do whatever we wanted. We had total freedom creatively to execute that—and then we won awards for it," she says. "The trust Steve gave to us, was just, 'you guys got it.' That's something that's unique enough to keep me coming in here."
Backed by supportive leadership and fueled by her confidence, the last step to Kara's process is simple: Know everything, all the time.
"I make sure to come into each set day prepared. I always tell [Fifteen4 Director of Live Action Sam Oddo], 'I want to know what you're thinking more than you know what you're thinking," she explains. "I want to be inside your head so that when questions are asked, I can answer everything. I equip myself with every possible bit of knowledge going in so that I know when I walk on set, I am the expert. I am the one in charge."
Kara's intelligence and authority are a constant resource at Fifteen4; something her colleagues readily recognize.
With one exception.
"Alexa," Kara repeats firmly.
Finally, the device's blue crown alights. Kara nods triumphantly. Another problem solved.
There's a lot to be learned from experience: travel experience, work experience, personal experiences with the office music device. In the moment, faced with a challenge, it's not about where your experience came from. It's how you use it.
After all, you can take the girl out of New Jersey. But as the saying goes…
"Alexa," Kara says. "Play Bruce Springsteen."