your healthcare website needs a check-up.

Healthcare buyers are too busy for an unconvincing website.
We create custom-designed websites with healthcare buyers in mind. That means intuitive user journeys for multiple personas, long-tail keyword optimization, and a mobile-first mentality that attracts and engages patients, HR professionals, insurance providers, and potential recruits.
design + content that moves people
Great creative to drives the sales process and wins the day.
From banner ads to web sites to product videos, we'll create a digital journey that motivates your buyers to take action.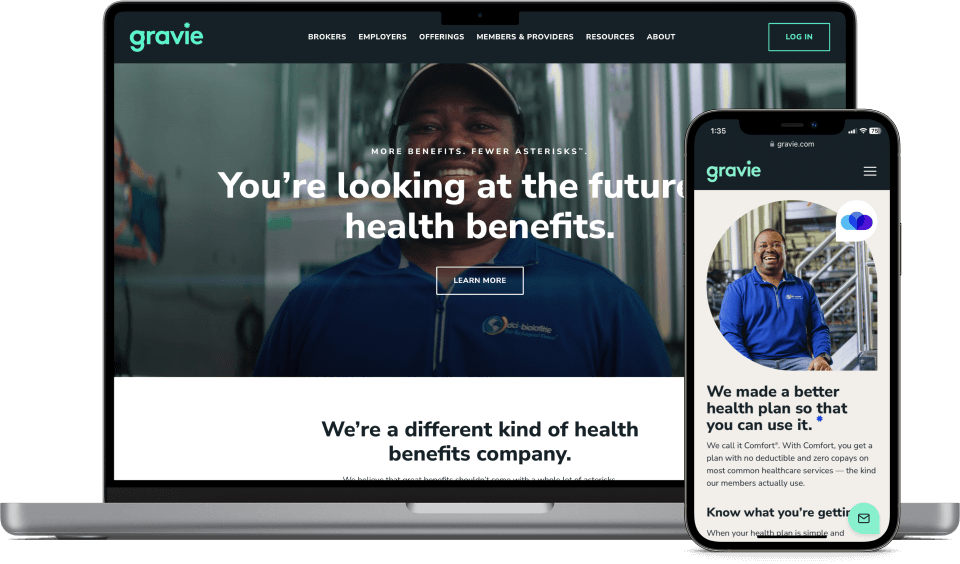 Gravie
After an explosive growth phase, Gravie asked Fifteen4 to create a new website that captured their differentiation among health insurance marketplaces. Fifteen4 designed clear user journeys for multiple audiences, shot original photography and video, highlighted customer stories, and optimized the site through engaging, narrative-driven copy.
The outcome is a growth-fueling new website for an emerging powerhouse.

Bloom Health Centers
After changing their name from Psych Associates of Maryland to Bloom Health Centers, the Bloom team wanted to refresh their visual identity and build a new, easier-to-use website. Working with a pastel color palette, Fifteen4 created a soothing design scheme that underscored Bloom's ability to provide access to quality mental healthcare. We then applied that design scheme to a WordPress website that was easy for staff to use, and created a social media campaign to drive traffic to the site.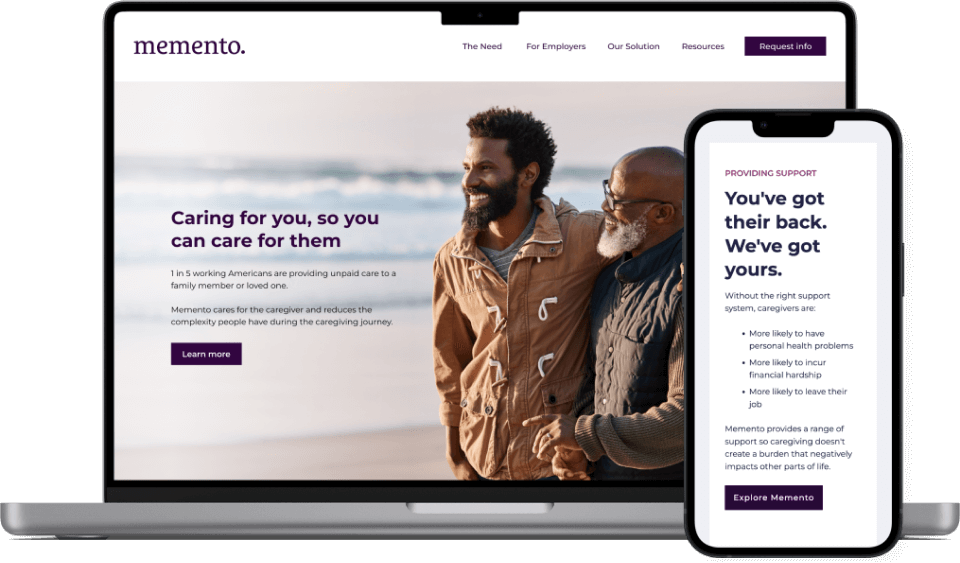 Memento
Launched by the CareFirst BlueCross BlueShield Healthworx team, Memento helps people address the financial, time management, and mental health challenges associated with caregiving. Healthworx asked Fifteen4 to create brand messaging, brand guidelines, and a website for the new company. We developed a compelling message, designed a logo and color scheme, and applied that message and design scheme to a website that inspires HR leaders to learn more.
"My friends at Fifteen4 Creative Agency who built an entire new website in 90 days and produced 6 videos as part of our arsenal of storytelling assets.
I could not imagine a better partner, and I can't wait to work with them again."
—Jeff Smokler, Chief Brand Officer
Gravie