As part of our ongoing employee spotlight series, Fifteen4 will be profiling the employees in our office who inspire us. Today, meet Graphic Designer Lauren Simmons.
Lauren Simmons is driven by exploration, education, and mountains covered in snow.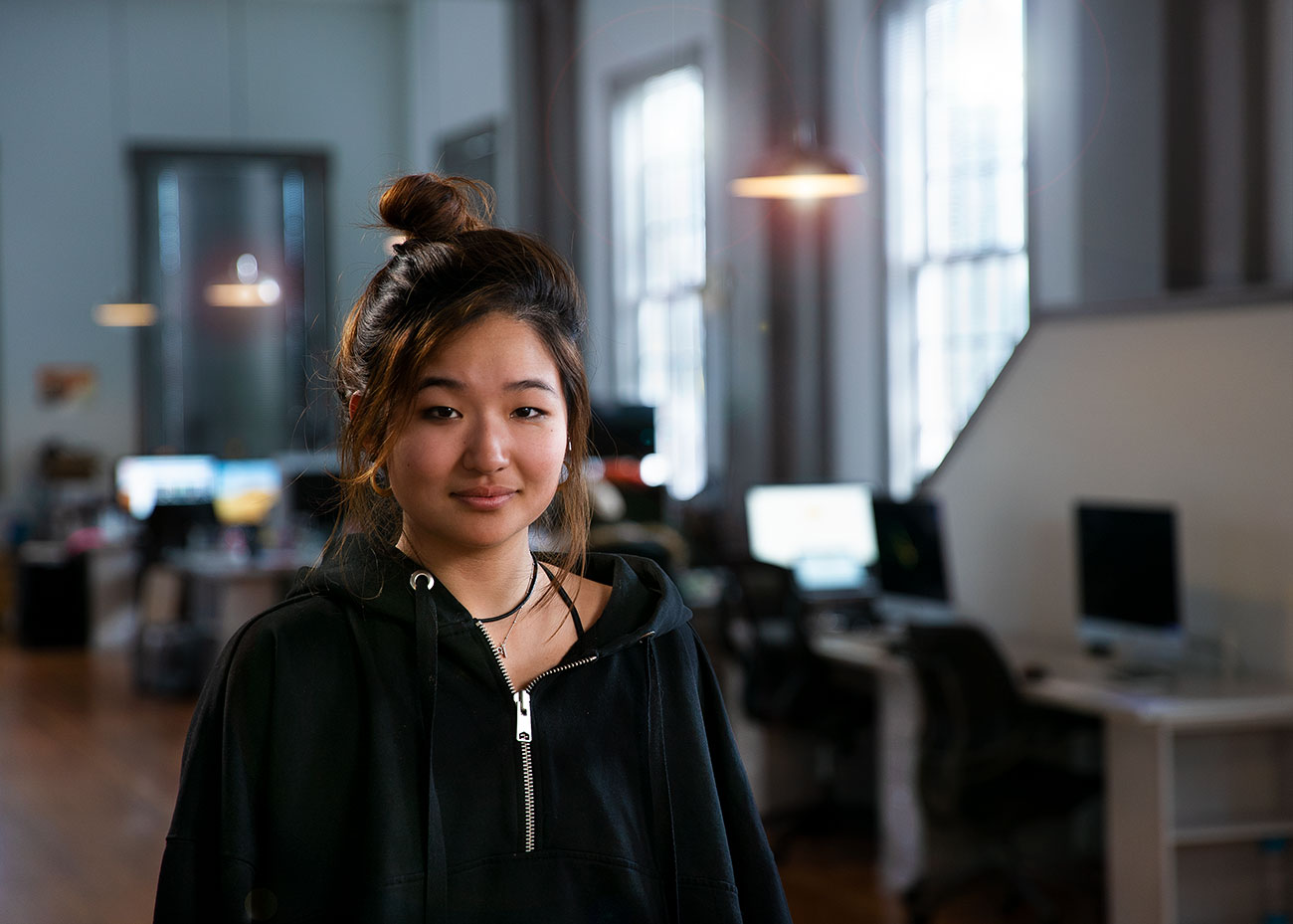 Lauren Simmons is pulling her hair out.
Her friend won't commit to a trip they've been planning for weeks, and she's watching hotel rooms disappear.
"We've been going back and forth for a month," she says. "And he just couldn't make up his mind. He was like, 'Well do we go to Denver? Or do we go to Salt Lake? Because Denver is cheaper, but the resorts are worse…'"
As the weeks have gone by, Lauren has watched a weekend she'd put aside for a snowboarding trip get closer and closer with no decision made about its destination. She knew she was getting on a plane. She just didn't know where it was going. And her traveling companion was offering no help. With only a week to go, she was tired of his waffling.
"I said, 'There's one spot left open in the girls room in this hostel in Utah. I'm booking it. If you want to join me, feel free. I'll be in Park City all weekend.'"
Lauren, a member of Fifteen4's graphic design team, has used her decisive adventuring skills all throughout her career. And like any design job, every adventure starts with a blank page.
"I like being in places where I know nothing about the area and I have to figure things out," Lauren says. "I just want to go where I don't know anyone, and nobody knows me, and have a fresh start somewhere else. It's like a puzzle."
I like being in places where I know nothing about the area and I have to figure things out…It's like a puzzle.
We live on a largely discovered planet. Gone are the eras of primitive exploration, when entire, uncharted continents lay before humanity, giving young adventurers the chance to lay down fresh footprints. In a lot of cases, an adventurer in 2019 doesn't have the leave or the checking account to travel to the ends of the earth; sometimes, you just schedule a long weekend to go somewhere you've never been. Stepping off a plane into a town where no one knows you or your past—checkered or not—gives you the chance to do something you can only do once: see a place for the first time.
A true explorer can create this experience without even leaving home.
"I get excited finding new spots to hike and meeting new people," Lauren says. "The thing that Baltimore has going for it versus other cities like my friends who live in New York or LA, it's easier to meet people, to just start talking to people, because it's smaller. It's easier to stay in touch with people. You start seeing people over and over again and you start having conversations. They say it's not like that in other, really big cities."
Not everyone can disappear into a strange new town every day. So for globe-trotting, snowboarding, SCUBA-diving wanderers like Lauren, every day is an exercise in bottling up her passion for wandering off and bringing it to work; even if work means sitting at a computer for eight hours.
"Graphic design is an adventure in and of itself," she explains. "You do spend your whole day in front of your computer, but there is always something to learn. There is always some random studio in Zurich or Seoul doing something amazing that you have to find. And there's always something that you can learn in the software. And it never gets boring. Which is why I think as a creative person and always feeling you have to move around, you can still move around."
Graphic design is an adventure in and of itself.
So, Lauren is off to Park City, Utah, following a gut instinct and a mountainside covered in powder. Like all her journeys, this one will add to the collective experiences that fuel her creativity, and allow her to return home with a head full of ideas. When you're always learning, every day is a fresh start.
In graphic design, there's always a new world to explore. "There are so many resources and sites and studios," Lauren says. "People make cool [stuff], and then you're like, 'wow; I need to make cool [stuff] too."